Social Media Guru's Weekly Checklist
Checklists can help you make sure that everything that needs to be accomplished within a given period gets done. As you'll see below, a social media guru has a lot to do each week to maintain guru status.
Social Media Guru's Weekly Checklist
Weekly
Check your stats
Engage with influencers
Engage with partners
Weekly goals check-in
Hold a strategy session
Attend events – chats, hangouts, etc.
Update your social media ads
Check Your Stats
In terms of what to check when it comes to stats, there are many, many options.
The Buffer blog has a great introduction to social media stats, as well as a weekly social media report you can create for sharing with your boss, client, or team.
This tip from Finola Howard is also really great:
Measure what's worked. Note your best-performing posts in a spreadsheet or other file so you can reference later as you hone your content.
What makes for a best-performing post? That can be totally up to you, depending on the stats that matter to you.
Engage with Influencers
Influencers are people with either a large following or a verified status or an important role at a significant company. Reach out to those outside your circle, particularly any influencers in your industry or niche.
In the past, I've identified a few people who I was wanted to connect with, added them to a Twitter list, then went about the weekly task of checking out their updates and engaging when appropriate. The goal, ultimately, is to build a relationship and connection—and in a lot of cases it works, if given time.
Engage with Partners
Engaging with partners involves staying in frequent connection with your competitors, colleagues, and friends.
Weekly Goals Check-in
Often times, along with checking your stats on a weekly basis, you can quickly peek at how your stats fit with the goals you've set for social media. Here're a couple of ways we do this at Connect4 Consulting:
1. Per-post basis
I know that we've got a certain benchmark in mind for a successful post, so I'm able to quickly see if we've reached that goal by peeking at the per-post stats (for instance, one benchmark is 200 clicks per tweet).
2. Longer-term goals
At other times, we'll set a bigger goal to aim for over time, and we'll use what's called a waterfall graph to chart our progress.
Credit goes to the team at HubSpot for giving me this cool idea. Here's how to make a waterfall graph for yourself:
If you're using Excel, create a table with the following columns:
Date: Dedicate a cell to each day in the month.
Weekday/Weekend: Label each day as a weekday or weekend day.
Daily Actual Visits: Plug in the number of visits you actually get each day.
Cumulative Actual Visits: Add that day's actual visit number to the number of visits you've gotten so far that month.
Daily Goal Visits: At the beginning of the month, plug in your daily visits goal, depending on whether it's a weekday or weekend.
Cumulative Goal Visits: At the beginning of the month, sum your daily visits goal day over day.
Here's what it might look like: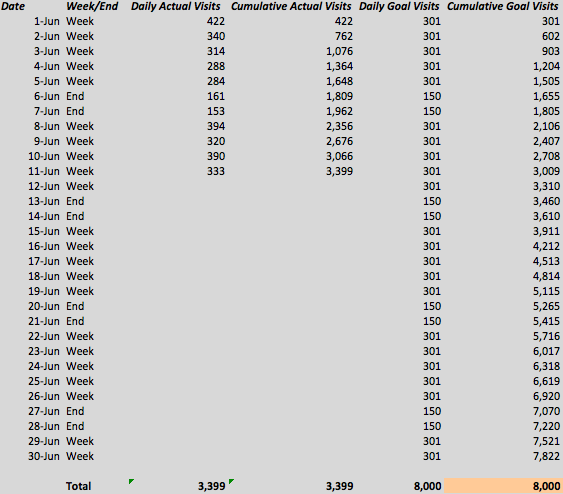 Each morning, plot your progress by plugging in the actual visit number from the previous day and adding it to the traffic you've earned over the month in the "Cumulative Actual Visits" column.
Next, create a graph from this spreadsheet to create your daily leads waterfall graph. First, hide the "Weekday/Weekend" column by right clicking on the column and choosing "Hide." Then, highlight the rest of your data, including the titles of your rows and columns but excluding the "Total" row that's at the bottom. Click the "Charts" tab at the top and choose "Line" and then "Marked Line."
You should see a graph that roughly resembles this one: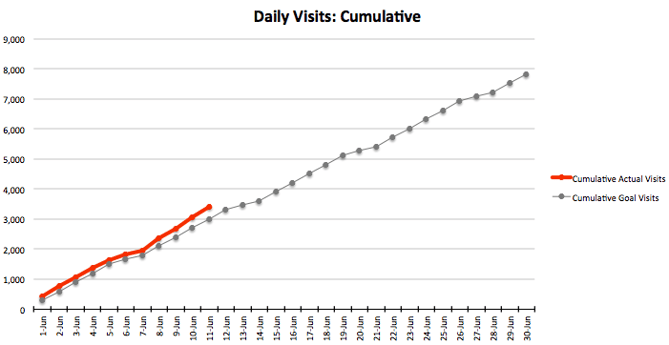 From there, you can add a title, label the lines, and change other visual elements.
Hold a Strategy Session
It always helps to step back and reflect.
Some cool strategy exercises could be reviewing what went into your social media marketing plan in the first place, i.e. your goals and purpose behind social media. Or answering some of these questions:
What do we hope to achieve with social media?
Are we on the right networks to connect with our audience?
How does our voice/tone convey our brand?
In what ways can we be most helpful to those we serve?
Attend Events
Here's a huge list of possible chats to participate in:
list of possible places to look:
Update Your Social Media Ads
Depending on the depth of your commitment and involvement in social media ads, this one could easily be a daily to-do item. If you're running just a few ads, then weekly could be a good frequency to start with. Check and refresh your ads. Keep the ones that are working. Iterate on the ones that aren't.
https://connect4consulting.com/wp-content/uploads/2015/09/social-media-gurus-weekly-checklist.jpg
452
640
Gabriel Seiden
https://connect4consulting.com/wp-content/uploads/2013/04/Connect4Consulting_LO_FF_transparent1.png
Gabriel Seiden
2015-09-30 14:15:20
2017-10-13 15:56:12
Social Media Guru's Weekly Checklist